Sioux Falls Plumbing Services
Leading 24-Hour Plumber Providing Emergency Repair & Replacement in Rapid City, SD
Don't let a plumbing issue put your home or business at a standstill. At the first sign of trouble, reach out to Midwestern Mechanical, Inc. As an industry-leading plumbing contractor since 1983, we've proudly completed countless projects throughout Sioux Falls, Rapid City, and the surrounding areas, as well as in Sioux City and Spencer, Iowa.
No job is too big or too small for us. We have more than enough technicians and state-of-the-art tools to handle residential or commercial plumbing needs. Have you ever searched for "plumbers near me with free estimates"? Don't worry. We provide expert plumbing service in Sioux Falls, SD, and respond on the same day as your call so you can return to your routine as soon as possible!
Ready to Take on Any Plumbing Job in Sioux Falls
Our expert plumbing services in Sioux Falls are offered by over 300 competent employees across 4 convenient locations. This ensures that you receive fast, reliable service on every plumbing job! Our local company is also big on training and continuing education classes, so you can rest assured any Sioux Falls plumber we dispatch to your property is highly skilled and knowledgeable.
Who Fixes Water Heaters?
When your water heater starts to acting up, it's time to call a professional. But who exactly do you need to call? In most cases, you need a plumber.
Plumbers are trained to work on all sorts of water heaters, both gas and electric. We'll be able to diagnose the problem and make the necessary repairs. In some cases, the damage may be too extensive and you'll need to replace your water heater. We'll be able to help you choose the right model for your home and then install it properly.
There are some circumstances where you might need an electrician, such as when you're having a repeatedly tripping breaker, but most of the time, the issue will be within a plumber's scope of expertise.
Our list of plumbing services includes:
Water line repair: Have you noticed discoloration in your water? Are there wet spots in your yard? Has the water pressure in your house suddenly dropped? You may have direct water line damage. Luckily, our skilled technicians offer dependable plumbing service in Sioux Falls, SD, and beyond.
Sewer line repair: Sometimes sewer lines can develop issues such as cracks and clogs. A complete line replacement is unnecessary for matters like these, and a simple sewer line repair will do the job. Our plumbers have the experience and the tools to handle your sewer line repair needs.
Toilet plumbing: Have you found water pooling around your toilet? Any number of toilet problems could be the cause of the watery mess. Loose connections, worn washer bolts, condensation, flapper leaks and clogs can all cause problems with your toilet. You need an experienced plumbing professional to take a look at your toilet plumbing problem so you can find the right solution.
Faucet, sink, and other fixture services: The fixtures in your home are a key part of the aesthetics and feel of your home. However, a faucet that does not get enough water pressure, or that fancy sink leaks, your entire design plan may be ruined. Let a professional with years of experience help ensure that the performance of your fixtures match your expectations. We can help with installation and repair on most major faucet, sink or fixture brands.
Gas and air piping: Some residential and commercial buildings make use of pressurized gas or air pipes for various reasons. Whether these pipes provide fuel for heating units or air for pneumatic tools, we have the knowhow to repair leaks safely. If you suspect there is a problem with your gas or air piping system, contact Midwestern Mechanical, Inc. today!
Water heater repair and replacement: No one likes a cold shower, so if your water heater has stopped working, you will want to get it fixed fast. Midwestern Mechanical, Inc. has over 300 workers spread across 4 locations. We can get a plumber to your door in no time.
Boiler repair: Is your boiler having problems? Our experienced technicians know how to handle the issues that keep your boiler from heating. We can help solve your pilot light issues, kettling, and leaks. If you have boiler issues, turn to the plumbing specialists you can trust.
Heating and cooling systems: HVAC systems keep your home or office at a stable tolerable temperature. If your unit goes out, it can make your residence vulnerable to high or low temperatures. Our technicians have experience installing, maintaining, and repairing HVAC systems so you never have to worry about your building's climate. We can also help solve HVAC issues such as strange sounds, power issues, foul odors, reduced airflow, unwanted moisture, and high utility bills.
Medical gas systems: Medical facilities often make use of a wide array of gasses including oxygen, carbon dioxide, nitrogen, and nitrous oxide. These gases can be dangerous to the public's health as well as explosive. This is why it is important to have a repair and installation technician that is aware of the compliance measures these systems must meet.
Circulating pumps and accessories: These pumps circulate gases, liquids, air and more in both commercial and residential buildings. When they stop working, essential functions in your home or business could suffer or completely shut down. Our employees have access to state-of-the-art tools and accessories that will get your pump working again, and help it run better and longer.
In-floor Heating systems: Also known as radiant floor heating, these energy efficient heating systems rarely have problems. However, when there is an issue, handling the repair can be complex and even dangerous. Someone who is inexperienced with handling these systems could cause water damage, electrocute themselves or start a fire. Keep yourself and your home safe by trusting in the expertise at Midwestern Mechanical, Inc.
Backflow prevention: Keeping contaminants out of the city water supply is critical and backflow preventers help achieve this goal. No one wants to expose public drinking water to fertilizers, pesticides, chlorine, soap, or waste. We can help you install, maintain/test and repair such a device on your water main, which will make the drinking water safer for you and your community.
Signs You Need Plumbing Repair
Some plumbing problems seem like a quick fix until you are knee-deep in water and don't even know where it's coming from. Below are a few signs to look for to know when you need plumbing repair!
No Water – A leak or a broken water pipe can have a major impact on you and your household. Problems like this need to be addressed immediately. A home with no water is more than an inconvenience, it can be dangerous.
Drains Won't Drain – Are your home's drains draining slower? Your plumbing could have clogs that needs to be dealt with by a professional. Hair, grease, or roots infiltrating your plumbing system can cause this problem. Call our Sioux Falls plumbing contractors today for the help you need.
Faucet Won't Stop Dripping – Does your faucet or showerhead drip non-stop? A steady drip like this may indicate a crack in a pipe, or a faulty installation. Fixing problems like this could save you up to 500 gallons of water a year. If you notice a drip, don't wait to act. Call our professional team of Sioux Falls plumbing services.
As a reputable plumbing company in Sioux Falls and neighboring communities, we are proud partners with today's best plumbing manufacturers. So when it's time for a new faucet, sink, toilet, or any other appliance, you can count on our plumbing service in Sioux Falls to provide you with the highest quality products and installation work.
Schedule an appointment with our Sioux Falls plumbers by calling (605) 203-4242. We provide free, in-person estimates on plumbing services in Sioux Falls or nearby.
WE TAKE PRIDE IN OUR TRADE
Experience the Midwestern Mechanical Difference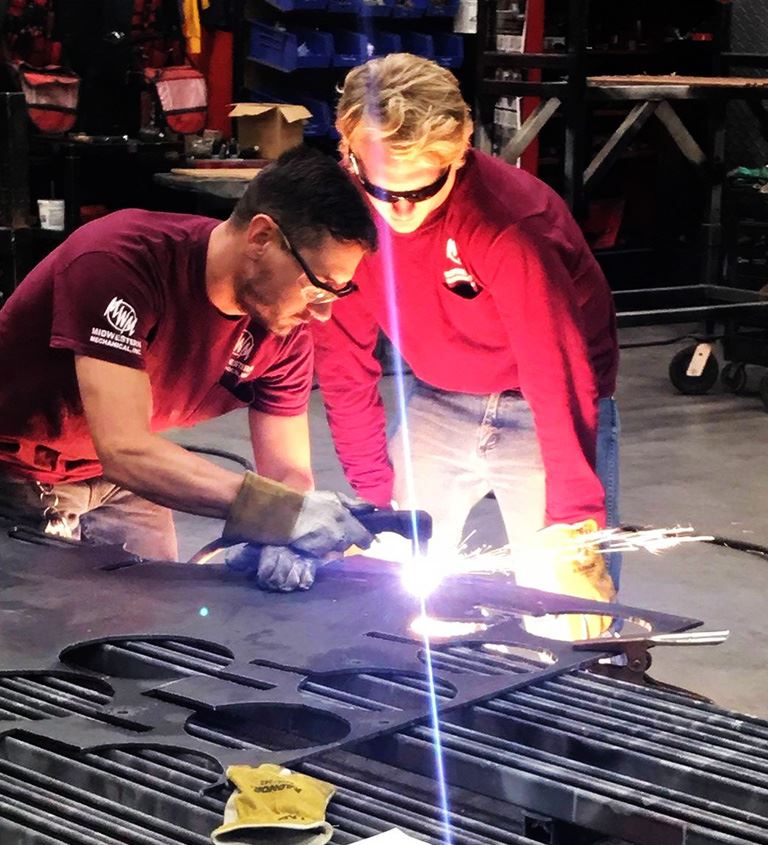 Free Estimates Available

We Can Provide Same-Day Service

Over 300 Employees Ready to Take on Any Task

Industry Leading Contractors Since 1983
Custom-Designed Plumbing Systems in Sioux Falls
Every plumbing need is different. For residential or commercial clients that require more personalized plumbing, our Sioux Falls plumbing contractors can help. We have in-house designers and close relationships with several engineering firms in the local community to help you attain the customized plumbing that will work best for your home, commercial building, or industrial facility. Check out our reviews here!
Get started with a free estimate! Call our Sioux Falls plumbers today at (605) 203-4242 or schedule an appointment online.