Midwestern Mechanical, Inc. Plumbing Apprenticeship
Training & Continuing Classes with our Apprentice Program
Plumbing apprentices at Midwestern Mechanical, Inc. get paid while they train on-the-job and attend classes. These well-trained craftsmen will apply their skills in every facet of the piping industry—from installation, service, and repair of plumbing and fire protection systems to water and gas piping to installing fixtures in homes and commercial projects.
Apprentices attend classes 2 days a month for 4 years (644 hours minimum) while working a minimum of 40 hours per week in the trade. This means they earn while they learn. Courses run from September through May and are conveniently scheduled during the day at a Midwestern Mechanical, Inc. location and shared by video conferencing to our other locations. Courses are taught by our experienced journeymen, where they incorporate theoretical and textbook study with hands-on training.
For more information about our Apprentice Program or to sign up, give Midwestern Mechanical, Inc. a call at (605) 203-4242!
WE TAKE PRIDE IN OUR TRADE
Experience the Midwestern Mechanical Difference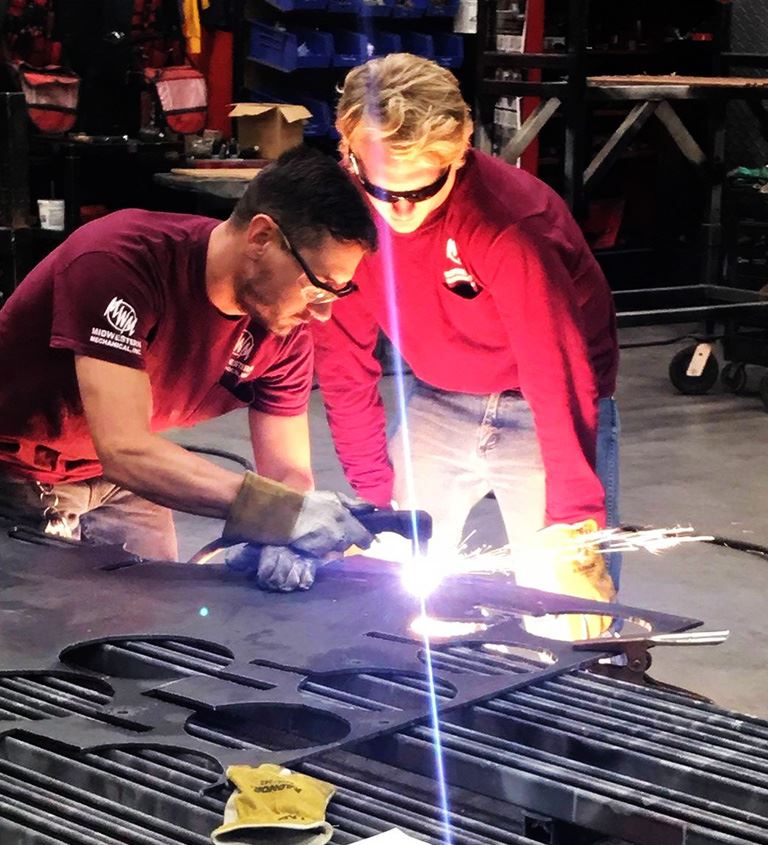 Free Estimates Available

We Can Provide Same-Day Service

Over 300 Employees Ready to Take on Any Task

Industry Leading Contractors Since 1983
Responsibilities of the Apprentice
During the required classroom instruction, apprentices learn how to use, care for, and safely handle the tools and materials used in the trades. They also learn the safety techniques necessary to establish a safe working environment and the protective measures required.
Apprentices also have the responsibility to:
Be at the job site every day, on time, ready, willing and able to work
Learn what true quality is in the piping industry
Be productive on the job
Strive to become a skilled craftsperson at the trade
Advantage of a Piping Apprenticeship
In addition to earning while they learn, apprentices also become more self-reliant.
They also receive other benefits, including:
College-level earning power upon completion, without the costs of a college education
Obtain instruction from experienced Journeymen
Gain respect and recognition from co-workers
The satisfaction of working with your hands and your mind in an increasingly technological and sophisticated industry
Obtain a license
Receive training for a career—not just a job
Varied career opportunities include Journeyman, Teacher, Foreman, Superintendent, Estimator, Project Manager, etc.
Apprentices must be at least 18 years of age. We also require a high school diploma or a high school equivalency (G.E.D.) certificate. Applicants with a high school diploma may apply at age 17 but must be age 18 at time of placement into an apprenticeship.