Sioux Falls Air Conditioning Service
Convenient 24-Hour Emergency AC Repair, Installation & Maintenance in Rapid City
When there's a problem with your air conditioner, don't sweat—contact our expert cooling technicians instead. Midwestern Mechanical, Inc. with Copper Cottage is the leading air conditioning company for countless Sioux Falls residents and commercial property owners. We've been in this line of business since 1983, and we know what it takes to ensure unmatched cooling services. Whether you require a small repair, a complete AC replacement, or preventative maintenance work, you can trust our Sioux Falls AC installation and repair technicians to handle the work promptly and efficiently. We always do the job the right way, so you can keep your cool all summer long!
Common AC Issues
Air conditioner problems are inevitable, especially when your system is being used around the clock, which is the norm during summer. Regular system maintenance can help keep major cooling issues at bay. However, if your AC is already showing problematic symptoms such as poor airflow, cycling frequently, strange noises, and more, a repair is necessary. Our Sioux Falls air conditioning contractors are available for same-day and emergency AC repair. As soon as you've noticed something out of the ordinary with your air conditioner, call us right away.
The common causes of AC problems include:
Low refrigerant or leaking refrigerant lines
Dirty filters
Frozen evaporator coils
Dirty condenser coils
Faulty motor
Worn belts
Clogged drain lines
Thermostat issues
Midwestern Mechanical, Inc. with Copper Cottage can work on any AC brand or model. We are also trained to repair or replace ductless mini-split air conditioners.
4 Signs You Need AC Repair
1. Loud sounds - A little bit of noise coming from your AC isn't what we're talking about. But if it sounds like something is loose or if you're getting a squealing, rattling, banging sound then call in your Sioux Falls AC repair contractors because something can become more damaged if left unattended.
2. Strange smells - If you're getting the musky smell of mildew or it smells like a dead animal, then you likely need to have your ducts cleaned. But a burning smell coming from your AC is a sign that it's in need of repairs.
3. Utility bills trending upwards - Older AC units especially can become less effective over time. What this means is that while your indoor temperature might stay the same, your AC needs to run more and more often to keep that temperature. Normally, air conditioners cool and rest, but if your AC is just cooling and not resting then you'll pay extra at the end of the month.
4. Rising humidity levels - Everyone knows that an AC blowing warm air needs to be fixed. But another part of the AC's job is to remove humidity from your indoor environment. If you're getting unwanted humidity, then call in our Sioux Falls AC repair specialists.
5 Signs You Need AC Replacement
1. Repair after repair - There always comes a time when another repair call becomes more expensive than a new unit outright. If you're throwing money into fixing the same unit every season, consult our Sioux Falls AC installation experts today.
2. Old age - AC units on average survive for 8-12 years. Exactly how long your unit will last depends on the use, environment, and maintenance. But if your unit is older than 12 years old, think twice before throwing more money at repairs.
3. An expensive repair - Our Sioux Falls AC installation experts use the following formula when deciding if they should repair or replace a unit: If the (Cost of repair) x (Age of unit in years) is greater than (Cost of a new unit) then you're better off with new AC installation.
4. It uses Freon - Because of the federal 2020 Freon Ban, units that require this coolant will become more and more expensive to operate as the coolants becomes more and more scarce.
5. Your technician can't replace the parts - Old AC units might rely on obsolete parts that become harder to find as time goes on. If your technician ever needs to replace a part that is said to be expensive, then consider getting a new unit.
Contact Our Sioux Falls AC Technicians
At Midwestern Mechanical, Inc. with Copper Cottage, we have the tools and experience necessary to make sure that your air conditioning is running in peak condition when you need it most. We have been working with your neighbors in Sioux Falls, Rapid City, and beyond since 1983.
To schedule an appointment for Sioux Falls AC repair, give us a call at (605) 203-4242.
WE TAKE PRIDE IN OUR TRADE
Experience the Midwestern Mechanical Difference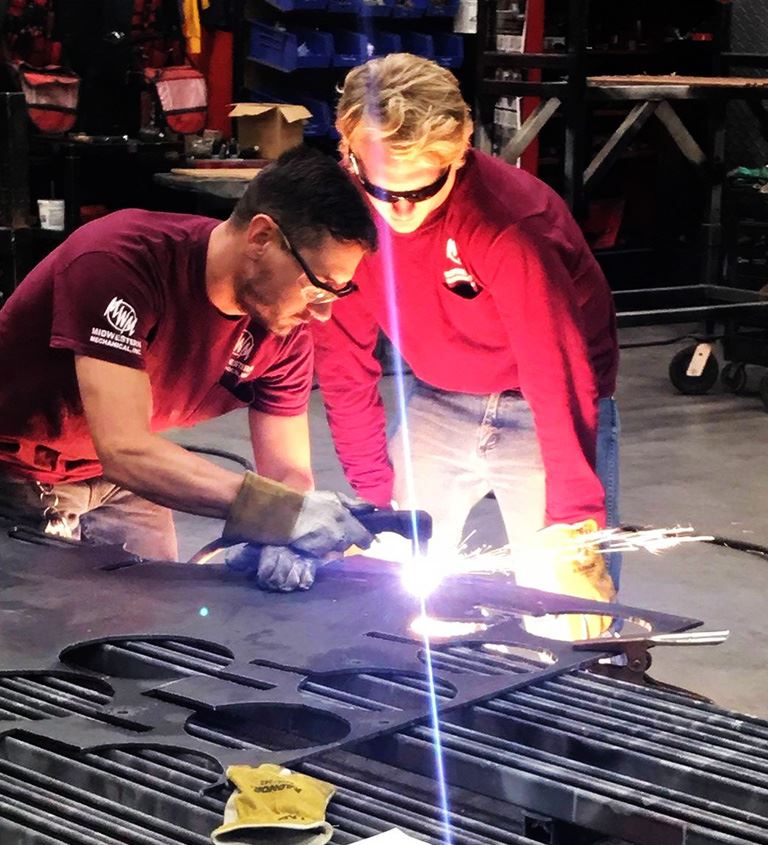 Free Estimates Available

We Can Provide Same-Day Service

Over 300 Employees Ready to Take on Any Task

Industry Leading Contractors Since 1983
Sioux Falls AC Maintenance Checklist
Having a broken-down air conditioner when you need it most is the worst. If you want to avoid such an experience at all cost, consider scheduling regular maintenance. Midwestern Mechanical, Inc. recommends calling for maintenance at least once a year to make sure your AC is in good shape.
Our Sioux Falls AC maintenance checklist includes:
Inspecting both inside and outside units
Checking every component and moving parts
Cleaning and lubricating parts as needed
Replacing the air filter
Checking and charging refrigerant as needed
Pinpointing potential issues
If you're contemplating an AC upgrade, we can also inspect your air conditioner and let you know when it's time for a replacement. Our Sioux Falls air conditioning company is a proud partner of leading AC manufacturers, so you can count on us to install only high-quality cooling systems. Read some of our reviews, here!
Get reliable air conditioning services from the coolest Sioux Falls AC repair, installation, and maintenance technicians in town! Call Midwestern Mechanical, Inc. at (605) 203-4242.