Sioux Falls Heating Services
Heating Contractors Servicing All Heater Makes & Models
During winter, home and business owners in Sioux Falls and the surrounding areas rely on a working heater to keep their properties warm and comfortable. When your heating system is not turning on or is providing insufficient heat, it's time call Midwestern Mechanical, Inc. and Copper Cottage to the scene. Since 1983, we've been providing residential and commercial clients with complete indoor comfort solutions including heater repair, replacement, new installation, and maintenance. Experienced in practically all heating system makes and models, our Sioux Falls furnace repair and installation technicians are ready to get your furnace, boiler, or heat pump working again.
Signs You Need Heater Repair
During Winter months, the last thing you want to happen to your heater is have it completely fail. But, what signs do you look for to know when it's time for your heater to get that repair.
Burner Flame Turns Yellow -
If you notice that your burner flame is any other color besides yellow, your heater has a problem that needs to be addressed. A yellow flame can mean that there is a presence of carbon monoxide and can pose a serious health hazard for you and your household. Contact us immediately if you notice this problem.
Odd Noises -
Heater will always make some noise when they first start up. But, if you are hearing loud banging, clanging or screeching, it could be either a loose belt or a faulty motor that is in need of repair.
Constant Thermostat Adjustments -
Have you found yourself constantly cranking the heater up well past what is reasonable for your home? Your heating system may not be distributing heat properly throughout your home, it could be a leak in your ductworks and in need of professional repairs.
Sioux Falls Heater Replacement
Apart from the equipment not turning on, there are several other indications you need heater repair. These signs include frequent cycling, poor airflow, banging or whistling noises, and uneven heating. If you've noticed any of these signs, get in touch with Midwestern Mechanical, Inc. right away. We respond rapidly, so you won't be left out in the cold for a long time. However, there are times when replacing your heating system is a more practical solution.
Consider a replacement when:
Your furnace or boiler is over 15 years old -
Depending on the age of your home, your heating system could be well over 15 years old. Most heating systems only last up to 15 years, maybe a little longer if you're lucky. But, the older your system gets, the more likely you will run into your system breaking down and needing frequent repair. For the best heater installation in Sioux Falls, give us a call today to replace your old system.
Higher Utility Costs -
In addition, the age of your heating system can also impact your utility costs. As the heater gets older, it's going to have to work twice as hard in order to provide the proper heat through out your home. Failing parts and your system burning extra fuel to work is usually a sign you need to replace your HVAC unit.
Short Cycling -
Have you noticed your heater turning on and off constantly? It should only turn on and off about 4 times every hour in order to keep your home at the temperature you set the thermostat to. If it's doing it much more frequently then that, your heater is short cycling. Call our Sioux expert heating technicians today to identify the problem.
When it's time for a new heater, you can count on our Sioux Falls heater contractors to help you select an energy-efficient replacement. We also provide top-notch installations to ensure reliable heater performance for years to come. Additionally, our heating experts in Sioux Falls offer comprehensive maintenance that can prolong the lifespan of your heater.
Midwestern Mechanical, Inc. is available for same-day appointments! Call our Sioux Falls heating contractors now at (605) 203-4242 to request heating services.
WE TAKE PRIDE IN OUR TRADE
Experience the Midwestern Mechanical Difference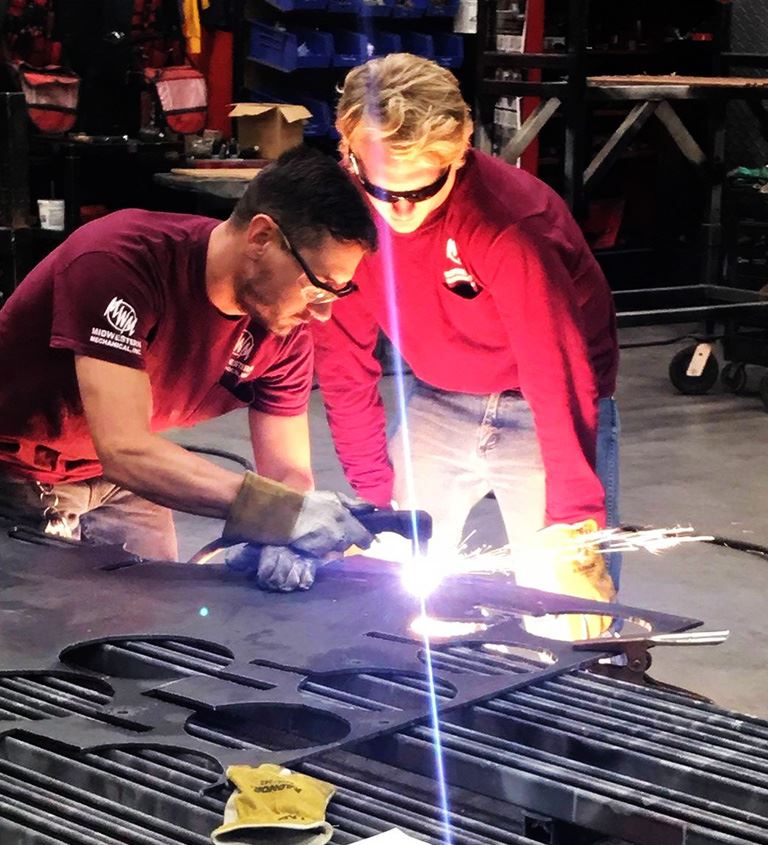 Free Estimates Available

We Can Provide Same-Day Service

Over 300 Employees Ready to Take on Any Task

Industry Leading Contractors Since 1983
Emergency Heater Services Available
When your heating system has stopped working while it's freezing outside, it can become very uncomfortable to the point that you and your family or employees get sick. Fortunately, Midwestern Mechanical, Inc. and Copper Cottage is available for emergency heater repairs day and night. Let our Sioux Falls furnace repair team restore warmth in your home or commercial space. We always have your health, comfort, and safety in mind. Check out our reviews and see what everyone is saying.
For immediate heater repair in Sioux Falls or nearby, call (605) 203-4242! You may schedule an appointment online for non-urgent heating needs.