HVAC Service in Sioux Falls, SD
Superior 24-Hour Emergency Heating & Air Conditioning Repair and Replacement in Rapid City
One of the most essential systems in a home or place of business is the HVAC system or heating, ventilation, and air conditioning. A properly working HVAC system not only affects your comfort but also your health, mood, and productivity. If your heater, AC, or any other HVAC component is malfunctioning, remember to call Midwestern Mechanical, Inc. and ask for our service division "Copper Cottage" who proudly serves Sioux Falls and the surrounding areas including Spencer and Sioux City, Iowa since 1983, we have extensive experience working on any residential or commercial HVAC system. Our Sioux Falls HVAC experts also trains and attends continuing classes regularly, ensuring a job done right the first time, every time.
Your Local Heating & Air Conditioning Experts
Our Sioux Falls HVAC experts also handle various heating, air conditioning, and indoor air quality systems including:
Furnaces
Boilers
Heat pumps
Thermostats
Air conditioners
Ductless mini-split AC
Air purifiers
Air cleaners
Humidifiers
In-floor heating
HVAC Repair Vs. Replacement
When you have an issue with your heater or air conditioner, your first instinct might be to try to fix the problem yourself. However, too many issues can only get worse with time, and attempting to fix a complex HVAC system without training can be dangerous. Fortunately, Midwestern Mechanical, Inc. can help determine the problem and offer suggestions for next steps based on your budget and your needs.
If your heater or air conditioner is past a certain age, or has required one too many repairs, our team may recommend replacement as the most effective option. If you're unsure what services you may need, don't hesitate to contact us with questions!
Why Choose Midwestern Mechanical for Your HVAC Needs
When it comes to your HVAC needs in Sioux Falls, SD, trust the experts at Midwestern Mechanical. With years of experience and a commitment to customer satisfaction, we are the go-to choice for all your heating and air conditioning services.
Here's why you should choose us:
Superior 24-hour emergency service: We understand that HVAC emergencies can happen at any time. That's why our team is available 24/7 to provide prompt and reliable emergency repair and replacement services.
Expert technicians: Our team of highly trained and certified technicians have the knowledge and skills to handle any HVAC issue, big or small. We stay up-to-date with the latest industry advancements to ensure the highest quality service.
Customized solutions: We believe that every home is unique, and so are its HVAC needs. Our experts will work closely with you to understand your specific requirements and provide customized solutions that fit your budget and preferences.
Repair or replacement options: We won't push you into unnecessary replacements. Our technicians will thoroughly assess your HVAC system and provide honest recommendations, whether it's a repair or replacement, to ensure optimal performance and efficiency.
Our Sioux Falls emergency HVAC experts respond the same day you call and offers free, in-person estimates at the start of every job. In addition to our on-going training, we use the latest tools and technologies available to provide lasting and high-quality results. Your comfort is our top priority.
Let us handle all your comfort needs today! Contact our Sioux Falls emergency HVAC experts at (605) 203-4242 or online.
WE TAKE PRIDE IN OUR TRADE
Experience the Midwestern Mechanical Difference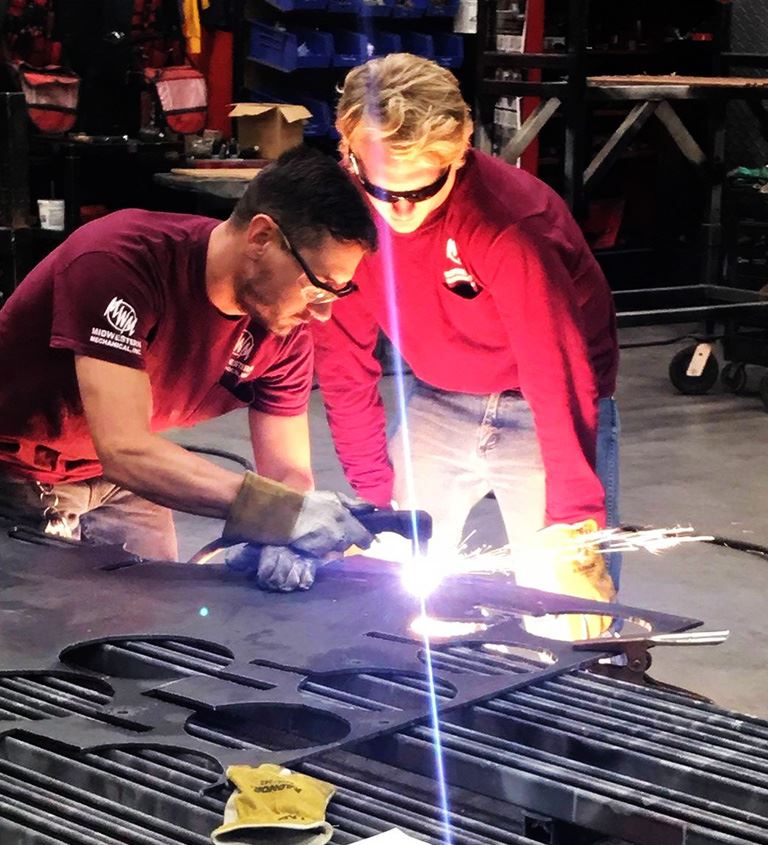 Free Estimates Available

We Can Provide Same-Day Service

Over 300 Employees Ready to Take on Any Task

Industry Leading Contractors Since 1983
Customizing Your HVAC System
When building a residential, commercial, or industrial property from the ground up, enlist the help of an expert HVAC contractor in Sioux Falls like Midwestern Mechanical, Inc. We can customize the layout and design of your HVAC system to help you achieve the best indoor comfort possible. Aside from our in-house designers, we also have project managers and close relationships with several reputable engineering firms in the area. Read our testimonies on what other people are saying about our work!
Give us a call at (605) 203-4242 to schedule a consultation with our Sioux Falls HVAC experts today!